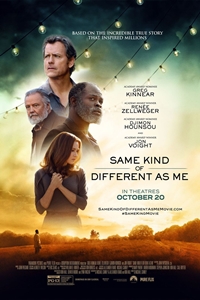 Same Kind of Different as Me
Opened October, 20th 2017
Rated PG-13
Runtime 1 hr. 9 min.
Starring Renee Zellweger, Djimon Hounsou, Jon Voight, Greg Kinnear, Olivia Holt, Stephanie Leigh Schlund, Theodus Crane, Ann Mahoney, Dana Gourrier, Lara Grice
Directed by Michael Carney
Genre Drama
SynopsisAn international art dealer Ron Hall must befriend a dangerous homeless man in order to save his struggling marriage to his wife, a woman whose dreams will lead all three of them on the most remarkable journey of their lives.