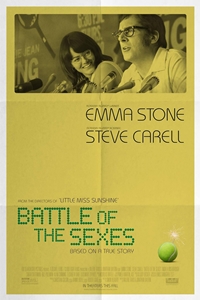 Opened September, 29th 2017
Rated PG-13
Runtime 2 hr. 1 min.
Starring Emma Stone, Steve Carell, Elisabeth Shue, Andrea Riseborough
Directed by Jonathan Dayton, Valerie Faris
Genre Comedy
SynopsisThe electrifying 1973 tennis match between Billie Jean King and Bobby Riggs was billed as THE BATTLE OF THE SEXES and became the most watched televised sports event of all time. The match sparked a global conversation on gender equality, spurring on the feminist movement.