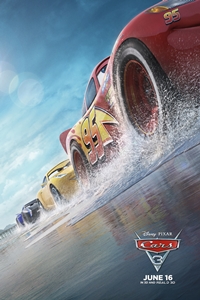 Opened September, 1st 2017
Rated G
Runtime 1 hr. 49 min.
Starring Armie Hammer, Nathan Fillion, Owen Wilson, Kerry Washington
Directed by Brian Fee
Genre Animation
SynopsisBlindsided by a new generation of blazing-fast racers, the legendary Lightning McQueen is suddenly pushed out of the sport he loves. To get back in the game, he will need the help of an eager young race technician, Cruz Ramirez, with her own plan to win.