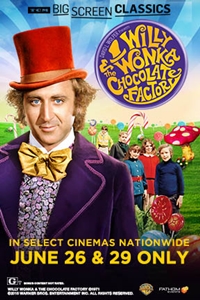 Willy Wonka and the Chocolate Factory (1971) presented by TCM
Opened June, 26th 2016
Rated NR
Runtime 2 hr. 0 min.
Starring Gene Wilder, Jack Albertson, Peter Ostrum, Roy Kinnear
Directed by Mel Stuart
Genre Program
SynopsisThis beloved classic will be accompanied by special commentary from TCM hosts Robert Osborne or Ben Mankiewicz, who will provide insight, background and more, making this film come alive. This movie brings to the screen the endlessly appetizing delights of Roald Dahl's cherished book. Coated with flavorful tunes and production designs that are a visual treat for the eyes, this effervescent musical never fails to enchant young and old. On a whirlwind tour of Willy's incredible, edible realm of chocolate waterfalls, elfish Oompa-Loompas and industrial-sized confections, a boy named Charlie will discover the sweetest secret of all: a generous, loving heart. With this heart-warming fan favorite, audiences will rediscover all the timeless magic as it was meant to be seen on the big screen.