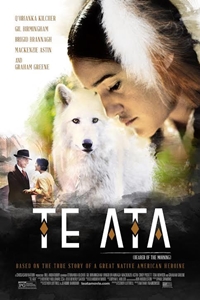 Opened September, 29th 2017
Rated PG
Runtime 1 hr. 45 min.
Starring Q'orianka Kilcher, Gil Birmingham, Graham Greene, Mackenzie Astin
Directed by Nathan Frankowski
Genre Drama
SynopsisMary Thompson Fisher traversed cultural barriers to become one of the greatest Native American performers of all time. Born in Indian Territory, and raised on the songs and stories of her Chickasaw tribe, Te Ata's journey to find her true calling led her through isolation, discovery, love and a stage career.