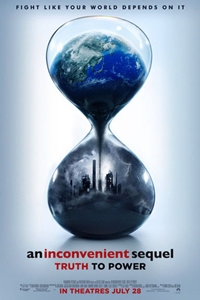 An Inconvenient Sequel: Truth to Power
Opens August, 4th 2017
Rated PG
Runtime 1 hr. 40 min.
Starring Al Gore
Directed by Bonni Cohen, Jon Shenk
Genre Documentary
SynopsisAl Gore continues his tireless fight traveling around the world training an army of climate champions and influencing international climate policy. Cameras follow him as he pursues the idea that climate change can be overcome with human ingenuity and passion.