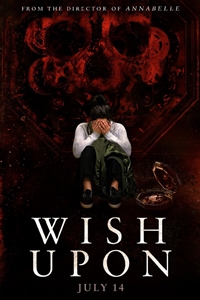 Opened July, 13th 2017
Rated PG-13
Runtime 1 hr. 30 min.
Starring Joey King, Ryan Phillippe, Ki Hong Lee, Mitchell Slaggert
Directed by John R. Leonetti
Genre Horror
SynopsisTwelve years after discovering her mother's suicide, 17-year-old CLARE SHANNON is bullied in high school, embarrassed by her manic, hoarder father JONATHAN and ignored by her longtime crush. All that changes when her father comes home with an old music box whose inscription promises to grant its owner seven wishes.