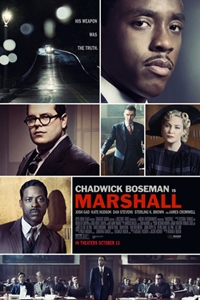 Opened October, 13th 2017
Rated PG-13
Runtime 1 hr. 58 min.
Starring Dan Stevens, Kate Hudson, Josh Gad, Sterling K. Brown
Directed by Reginald Hudlin
Genre Drama
SynopsisLong before he sat on the United States Supreme Court or claimed victory in Brown v. Board of Education, Thurgood Marshall was a young rabble-rousing attorney for the NAACP.