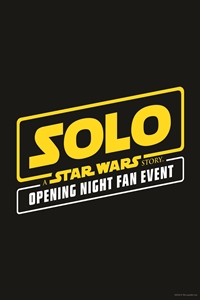 Solo: A Star Wars Story Opening Night Fan Event
Opened May, 24th 2018
Rated PG-13
Runtime 2 hr. 15 min.
Starring Alden Ehrenreich, Joonas Suotamo, Woody Harrelson, Emilia Clarke
Directed by Ron Howard
Genre Program
SynopsisBe the first to experience Solo: A Star Wars Story! During an adventure into a dark criminal underworld, Han Solo meets his future copilot Chewbacca and encounters Lando Calrissian years before joining the Rebellion.