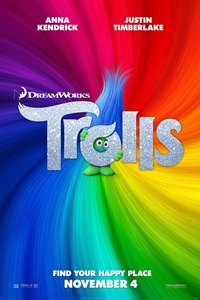 Opened July, 9th 2019
Rated PG
Runtime 1 hr. 32 min.
Starring Justin Timberlake, Anna Kendrick, Gwen Stefani, James Corden
Directed by Mike Mitchell, Walt Dohrn
Genre Animation, Family, Comedy
SynopsisPoppy, the optimistic leader of the Trolls, and her polar opposite, Branch must embark on an adventure that takes them far beyond the only world they've ever known.