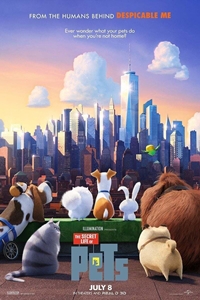 Opened June, 4th 2019
Rated PG
Runtime 1 hr. 30 min.
Starring Louis C.K., Eric Stonestreet, Kevin Hart, Ellie Kemper
Directed by Chris Renaud, Yarrow Cheney
Genre Animation
SynopsisMax's life as a favorite pet is turned upside down, when his owner brings home a sloppy mongrel named Duke. They have to put their quarrels behind them when they find out that an adorable white bunny named Snowball is building an army of lost pets determined to take revenge.