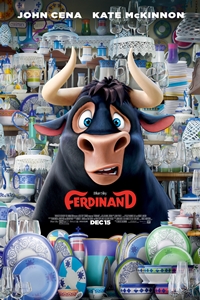 Opened December, 15th 2017
Rated PG
Runtime 1 hr. 47 min.
Starring John Cena, Kate McKinnon, Gina Rodriguez, Daveed Diggs
Directed by Carlos Saldanha
Genre Drama
SynopsisThe story of a giant bull with a big heart. After being mistaken for a dangerous beast, he is captured and torn from his home. Determined to return to his family, he rallies a misfit team on the ultimate adventure. Set in Spain, Ferdinand proves you can't judge a bull by its cover.