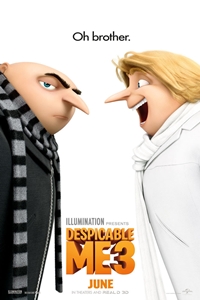 Opened August, 25th 2017
Rated PG
Runtime 1 hr. 30 min.
Starring Kristen Wiig, Trey Parker, Steve Carell, Miranda Cosgrove
Directed by Kyle Balda, Pierre Coffin
Genre Animation
SynopsisVillain Balthazar Bratt is a former child star who's grown up to become obsessed with the character he played in the '80s, and proves to be Gru's most formidable nemesis to date.