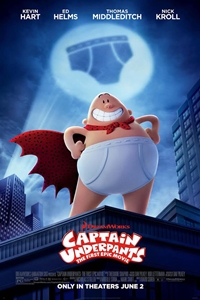 Captain Underpants: The First Epic Movie
Opened June, 2nd 2017
Rated PG
Runtime 1 hr. 28 min.
Starring Kevin Hart, Ed Helms, Nick Kroll, Thomas Middleditch
Directed by David Soren
Genre Animation
SynopsisThis raucously subversive comedy for the entire family tells the story of two overly imaginative pranksters named George and Harold, who hypnotize their principal into thinking he's a ridiculously enthusiastic, incredibly dimwitted superhero named Captain Underpants.