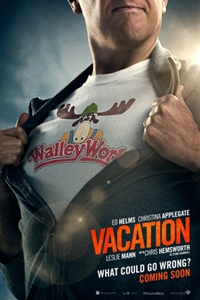 Opened July, 29th 2015
Rated R
Runtime 1 hr. 39 min.
Starring Ed Helms, Christina Applegate, Leslie Mann, Chris Hemsworth
Directed by John Francis Daley, Jonathan M. Gol
Genre Comedy
SynopsisThe next generation of Griswolds is at it again. Following in his father's footsteps and hoping for some much-needed family bonding, a grown-up Rusty surprises his wife, Debbie, and their two sons with a cross-country trip back to America's 'favorite family fun park', Walley World.