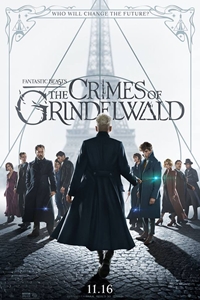 Fantastic Beasts: The Crimes of Grindelwald
Opened November, 16th 2018
Rated PG-13
Runtime 2 hr. 14 min.
Starring Eddie Redmayne, Katherine Waterston, Dan Fogler, Alison Sudol
Directed by David Yates
Genre Action/Adventure, Family
SynopsisAt the end of the first film, Dark wizard Gellert Grindelwald was captured by MACUSA, with the help of Newt Scamander. But, making good on his threat, Grindelwald escaped custody and has set about gathering followers, most unsuspecting of his true agenda: to raise pure-blood wizards up to rule over all non-magical beings.