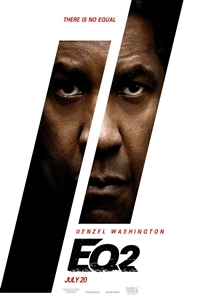 Opened July, 20th 2018
Rated R
Runtime 2 hr. 0 min.
Starring Denzel Washington, Pedro Pascal, Ashton Sanders, Bill Pullman
Directed by Richard Lindheim
Genre Action/Adventure, Suspense/Thriller
SynopsisDenzel Washington returns to one of his signature roles in the first sequel of his career. Robert McCall serves an unflinching justice for the exploited and oppressed - but how far will he go when that is someone he loves?