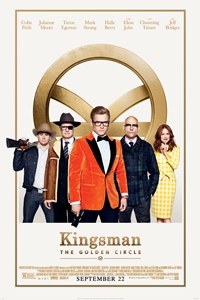 Kingsman: The Golden Circle
Opened September, 21st 2017
Rated R
Runtime 2 hr. 21 min.
Starring Colin Firth, Julianne Moore, Taron Egerton, Mark Strong
Directed by Matthew Vaughn
Genre Action/Adventure
SynopsisIn "Kingsman: The Golden Circle," our heroes face a new challenge. When their headquarters are destroyed and the world is held hostage, their journey leads them to the discovery of an allied spy organization in the US called Statesman, dating back to the day they were both founded.