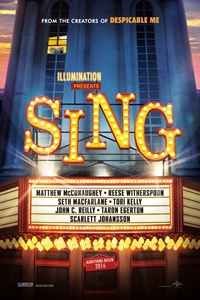 Opened June, 18th 2019
Rated PG
Runtime 1 hr. 48 min.
Starring Matthew McConaughey, Reese Witherspoon, Seth MacFarlane, Scarlett Johansson
Directed by Garth Jennings
Genre Animation, Comedy
SynopsisBuster Moon, a dapper Koala who presides over a once-grand theater that has fallen on hard times has one final chance to restore his fading jewel to its former glory by producing the world's greatest singing competition.