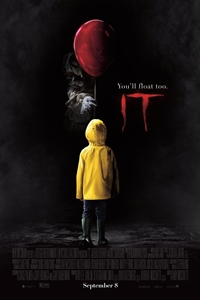 Opened September, 8th 2017
Rated R
Runtime 2 hr. 15 min.
Starring Bill Skarsgård, Jaeden Lieberher, Jeremy Ray Taylor, Sophia Lillis
Directed by Andrés Muschietti
Genre Horror
SynopsisWhen children begin to disappear in the town of Derry, Maine, a group of young kids are faced with their biggest fears when they square off against an evil clown named Pennywise, whose history of murder and violence dates back for centuries.