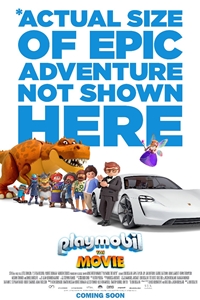 Opened December, 6th 2019
Rated PG
Runtime 1 hr. 39 min.
Starring Anya Taylor-Joy, Daniel Radcliffe, Kenan Thompson, Adam Lambert
Directed by Lino DiSalvo
Genre Animation, Action/Adventure, Comedy
SynopsisWhen her younger brother Charlie (Gabriel Bateman) unexpectedly disappears into the magical, animated universe of PLAYMOBIL®, Marla (Anya Taylor-Joy) must go on a quest of a lifetime to bring him home.