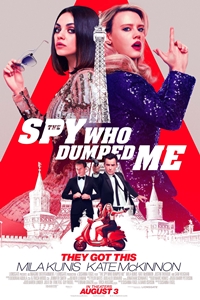 Opened August, 3rd 2018
Rated R
Runtime 1 hr. 57 min.
Starring Mila Kunis, Kate McKinnon, Justin Theroux, Hasan Minhaj
Directed by Susanna Fogel
Genre Comedy
SynopsisAudrey (Mila Kunis) and her friend Morgan (Kate McKinnon) are going about their humdrum lives when Audrey's unassuming ex-boyfriend Drew shows up at their apartment with a team of deadly assassins on his trail. Surprising even themselves, the two friends jump into action when two men are shot dead on their floor, grabbing a top-secret thumb drive and taking off on a hilarious undercover mission to save the world in this high-octane, continent-hopping spy caper.