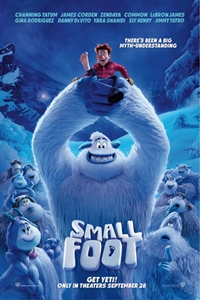 Opened September, 28th 2018
Rated PG
Runtime 1 hr. 38 min.
Starring Channing Tatum, James Corden, Zendaya, Common
Directed by Karey Kirkpatrick
Genre Animation, Comedy
SynopsisAn animated adventure for all ages, with original music and an all-star cast, Smallfoot turns the Bigfoot legend upside down when a bright young Yeti finds something he thought didn't exist - a human.