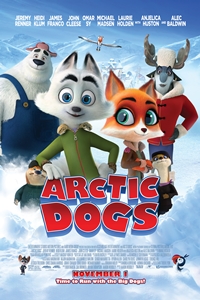 Opened November, 1st 2019
Rated PG
Runtime 1 hr. 33 min.
Starring James Franco, Jeremy Renner, Alec Baldwin, Laurie Holden
Directed by Aaron Woodley
Genre Animation
SynopsisSwifty the Arctic Fox (Jeremy Renner) works in the mailroom of the Arctic Blast Delivery Service but dreams of one day becoming a Top Dog (the Arctic's star husky courier). To prove himself worthy of the Top Dog role, Swifty secretly commandeers one of the sleds and delivers a mysterious package to a secret location.