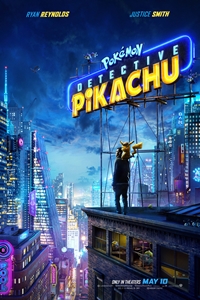 Pokemon Detective Pikachu
Opened May, 10th 2019
Rated PG
Runtime 1 hr. 44 min.
Starring Ryan Reynolds, Justice Smith, Kathryn Newton, Ken Watanabe
Directed by Rob Letterman
Genre Animation, Action/Adventure
SynopsisThe story begins when ace detective Harry Goodman goes mysteriously missing, prompting his 21-year-old son Tim to find out what happened. Aiding in the investigation is Harry's former Pokémon partner, Detective Pikachu: a hilariously wise-cracking, adorable super-sleuth who is a puzzlement even to himself.