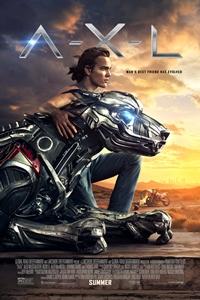 Opened August, 24th 2018
Rated PG
Runtime 1 hr. 38 min.
Starring Alex Neustaedter, Becky G, Alex MacNicoll
Directed by Oliver Daly
Genre Action/Adventure, Family
SynopsisA.X.L. is a top-secret, robotic dog with advanced artificial intelligence created by the military. After an experiment gone wrong, A.X.L. is discovered hiding in the desert by a kind-hearted outsider, (Alex Neustaedter), who finds a way to connect with him after activating his owner-pairing technology. The two develop a special friendship based on trust, loyalty, and compassion. A.X.L. will go to any length to protect his new companion, including facing off against the scientists who created him and who will do anything to get him back.