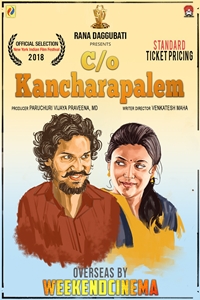 Opened September, 6th 2018
Rated NR
Runtime 2 hr. 32 min.
Starring Praveena Paruchuri, Radha Bessey, Subba Rao, Karthik Rathnam
Directed by Maha Venkatesh
Genre Drama
SynopsisThere is only one Truth, but many paths. There is only one Light, but many reflections. There is only one Love, but many imperfections. We are all One, but many. C/o Kancharapalem is a collage of love stories and follows Raju a fifty-year-old man who is still unmarried; Sundaram a school going kid who falls in love with his classmate, Joseph a wayward youth who falls for a dancer and Gaddam who is deeply in love with a prostitute. C/o Kancharapalem explores their struggles with love and life.