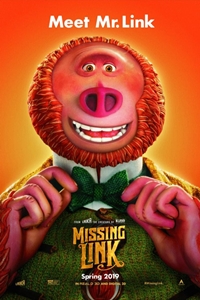 Opened April, 12th 2019
Rated PG
Runtime 1 hr. 35 min.
Starring Hugh Jackman, Zoe Saldana, Zach Galifianakis, Emma Thompson
Directed by Chris Butler
Genre Animation, Comedy, Action/Adventure
SynopsisTired of living a solitary life in the Pacific Northwest, Mr. Link recruits fearless explorer Sir Lionel Frost to guide him on a journey to find his long-lost relatives in the fabled valley of Shangri-La.