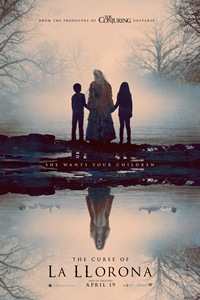 Opened April, 19th 2019
Rated R
Runtime 1 hr. 33 min.
Starring Linda Cardellini, Patricia Velasquez, Madeleine McGraw, Sean Patrick Thomas
Directed by Michael Chaves
Genre Horror
SynopsisLa Llorona is stalking the night and the children. Ignoring the eerie warning of a troubled mother suspected of child endangerment, a social worker and her own small kids are soon drawn into a frightening supernatural realm.