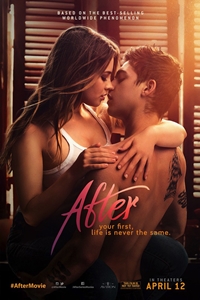 Opened April, 12th 2019
Rated PG-13
Runtime 1 hr. 46 min.
Starring Hero Fiennes Tiffin, Peter Gallagher, Meadow Williams, Josephine Langford
Directed by Jenny Gage
Genre Drama
SynopsisAFTER follows Tessa (Josephine Langford), a dedicated college student, dutiful daughter and loyal girlfriend whose guarded world opens up when she meets the dark and mysterious Hardin Scott (Hero Fiennes Tiffin).