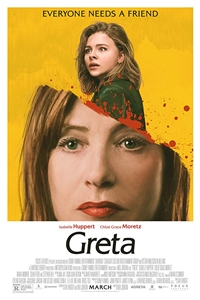 Opened March, 1st 2019
Rated R
Runtime 1 hr. 38 min.
Starring Chloë Grace Moretz, Maika Monroe, Isabelle Huppert, Colm Feore
Directed by Neil Jordan
Genre Drama, Suspense/Thriller
SynopsisFrances doesn't think twice about returning the handbag she finds to its rightful owner. That owner is Greta, an eccentric French piano teacher. The two become friends - but Greta's charms begin to dissolve and grow increasingly disturbing as Frances discovers that nothing in Greta's life is what it seems.