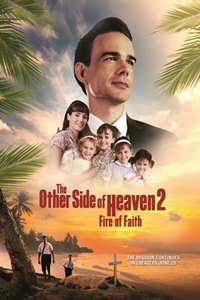 The Other Side of Heaven 2: Fire of Faith
Opened June, 28th 2019
Rated PG-13
Runtime 1 hr. 58 min.
Starring Christopher Gorham, Natalie Medlock, Alex Tarrant, Ben Baker
Directed by Mitch Davis
Genre Drama
SynopsisTHE OTHER SIDE OF HEAVEN 2: FIRE OF FAITH continues the epic true saga of Elder John H. Groberg's missionary adventures in Tonga as depicted in the eponymous Disney-distributed hit film of 2001.