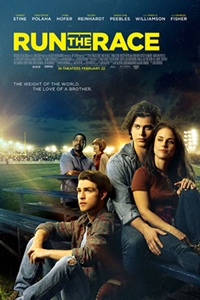 Opened February, 22nd 2019
Rated PG
Runtime 1 hr. 41 min.
Starring Tanner Stine, Kristoffer Polaha, Evan Hofer, Kelsey Reinhardt
Directed by Chris Dowling
Genre Drama
SynopsisIn "Run the Race", two desperate brothers sacrifice today for a better tomorrow. Zach, an All-State athlete, works to earn a college scholarship and the brothers' ticket out of town. When an injury puts Zach on the sidelines, David laces up his track cleats to salvage their future.