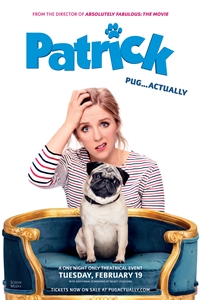 Opened February, 19th 2019
Rated Rated G
Runtime 1 hr. 45 min.
Starring Emily Atack, Ed Skrein, Jennifer Saunders
Directed by Mandie Fletcher
Genre Comedy
SynopsisSarah Francis is a young woman whose life is a bit of a mess. The last thing she needs is someone else to look after, let alone someone who dribbles, snores and eats from the trash! Yet, like it or not, her Grandmother has bequeathed her a very spoiled dog, Patrick - her pug.