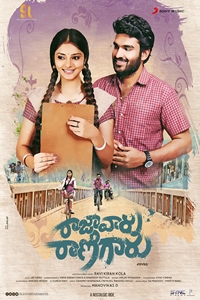 Raja Vaaru Rani Gaaru (Telugu)
Opened November, 29th 2019
Rated NR
Runtime 2 hr. 13 min.
Starring Kiran Abbavaram, Rahasya Gorak, Rajkumar Kasireddy, Yazurved Gurram
Directed by Ravi Kiran Kola
Genre Drama, Romance
SynopsisRaja Vaaru Rani Gaaru is the story of Raju who falls in love with Rani but is unable to express his emotions. Set in a beautiful village, watch as Raju and two of his friends deal with the toils and troubles of romance.