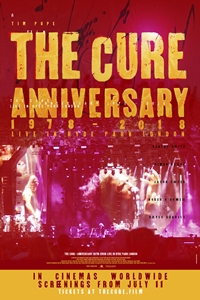 Cure - Anniversary 1978-2018 Live in Hyde Park, Th
Opened July, 11th 2019
Rated NR
Runtime 2 hr. 17 min.
Starring Robert Smith, Simon Gallup, Jason Cooper, Roger O'Donnell and Reeves Gabrels
Directed by Tim Pope
Genre Concert
SynopsisThe Cure, acknowledged as one of the world's greatest live bands, take the stage on a perfect July evening in London's Hyde Park 2018 to deliver a set of songs celebrating four decades of music making. The ensuing film "Anniversary 1978-2018", directed by long-time collaborator Tim Pope, captures them in glorious 4K.