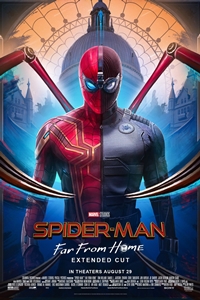 Spider-Man: Far From Home - Extended Cut
Opened August, 30th 2019
Rated PG-13
Runtime 2 hr. 13 min.
Starring Tom Holland, Samuel L. Jackson, Zendaya, Cobie Smulders
Directed by Jon Watts
Genre Action/Adventure, SciFi/Fantasy
SynopsisExtended Cut with an additional 4 minutes! Following the events of Avengers: Endgame, Spider-Man must step up to take on new threats in a world that has changed forever.