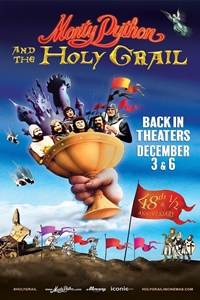 Monty Python and the Holy Grail
Opened June, 11th 2019
Rated PG
Runtime 1 hr. 29 min.
Starring John Cleese, Terry Gilliam, Graham Chapman, Eric Idle
Directed by Terry Gilliam, Terry Jones
Genre Comedy
SynopsisKing Arthur and his Knights of the Round Table embark on a low-budget journey to seek out the Holy Grail, and they are led to a castle controlled by the French where they believe the Grail is being held.