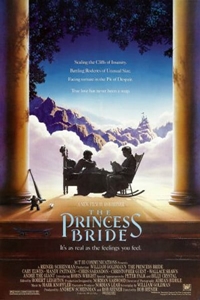 Opened September, 25th 1987
Rated PG
Runtime 1 hr. 38 min.
Starring Cary Elwes, Mandy Patinkin, Chris Sarandon, Christopher Guest
Directed by Rob Reiner
Genre Comedy
SynopsisRobin Wright and Cary Elwes star in this fairytale adventure about a beautiful princess and the gallant hero who rescues her from an evil villain. Directed by Rob Reiner, it's an enchanting classic the whole family will love!