Available at the Liberty 12 in Liberty, MO
THE LYRIC
If you're looking to relax in peak comfort, The Lyric is the auditorium for you! An intimate 38-seat theater, The Lyric is a tribute to the first B&B Theatres cinema located in Salisbury in 1924. The Lyric is luxuriously outfitted with richly colored wall curtains, wood-grained floors, and tray tables affixed to each of the heated leather recliners for easy access to food and drinks. The Lyric will play (pending availability) art house films, indie content, and award winners, making it a special and unique homage to old Hollywood combined with the best in cutting-edge cinema. Designed not only as an special auditorium for public showtimes, but as a rentable venue for private events, The Lyric also has access to a separate bar and can be staffed with dedicated bartenders and service staff to make rentals and parties all the more exclusive!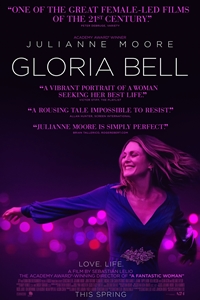 Directed by Sebastián Lelio
With Julianne Moore, John Turturro, Brad Garrett
Rated R for for sexuality, nudity, language and some drug use
Gloria is a free-spirited divorcée who spends her days at a straight-laced office job and her nights on the dance floor, joyfully letting loose at clubs around Los Angeles. After meeting Arnold on a night out, she finds herself thrust into an unexpected new romance...